Open 10 am-6 pm Monday-Saturday
Open 12noon-5pm on Sundays June-September, Sundays between Thanksgiving and Christmas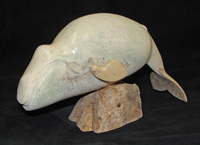 Click here to view our Featured Items!
Click here to visit us on Etsy!
Now Accepting PayPal!
Click here to visit our Facebook Page!
Please "LIKE" and SHARE our page! Feel free to inquire with us and we will be happy to assist you!
Alaska Gifts from the Best Alaska Artists in the Great Land
(907) 563-3877
Our gifts are hand made by talented Alaska artists unparalleled in craftsmanship.
We search Alaska for the best gifts for you to buy online!
Explore our varied selection of fine gift merchandise.

Our Alaska gift inventory includes the largest collection of museum quality gifts available in Alaska.
If you can't find the item that you are looking for, contact us and we will see what we have for you! Our online inventory contains a fraction of what you will find in our store. Just call or email us.

Browse our extensive selection of native arts and crafts, mammoth and walrus ivory, jade, gold, soapstone, fossils and a host of other treasures.
We also feature hand-made jewelry, baskets, masks, soapstone, ivory and bone carvings, fur products and so much more. Eskimo dolls line our shelves just waiting for you to take home.
Truly Alaskan gifts of the best kind! We carry the largest selection of authentic furs in Alaska.
Alaska Fur Exchange is located at the corner of the Old Seward Highway and Tudor Road in Anchorage, Alaska.
We are open on Sundays in the summer, and Sundays starting after Thanksgiving through Christmas.
Prices are subject to change without notice.
Please note that credit card orders are only available by phone at this time. To place your order call us at (907) 563-3877 or by FAX at (907) 561-4978. You can also place your order by emailing us at akgifts@alaska.net and a customer service representative will contact you regarding your inquiry. And yes, we are that store with all of the Animal Heads in the entry way!
Alaska Fur Exchange
4417 Old Seward Hwy. Anchorage, Alaska 99503
PHONE: (907) 563-3877 | FAX: (907) 561-4978 | Email: Click here
Hours: 10:00am-6:00pm Monday through Saturday
12:00 Noon-5:00pm Sundays